Seamless Gutter Solutions for Your Home or Business
Your gutters are an integral component of your home or commercial property. When you want low-maintenance gutters, Lessard's Rain Gutters offers a variety of seamless gutter styles custom-made for your structure. We know you want gutters that are just as beautiful as they are functional to protect your property. That's why we provide materials such as aluminum and copper, as well as half-round gutters with decorative header boxes and rain chains. Your seamless gutters are in good hands with us.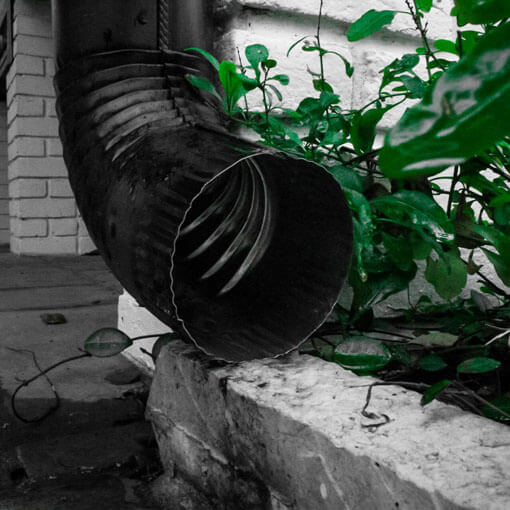 Quality Gutter Options
Seamless K-Style Gutters
Our painted aluminum gutters are available in 27 colors to help match or accent your property. When you invest in new gutters from Lessard's Rain Gutters, you get a 10-year workmanship warranty and a 50-year manufacturer paint warranty on aluminum gutters. Our seamless K-style gutters help prevent water erosion, washout and backsplash damage while directing water for a better drainage solution.
Half-Round Gutters
Lessard's Rain Gutters offers half-round gutters in aluminum, galvalume or copper. Half-round gutters add beauty to your property while still being functional, and come with standard round downspouts. We can help you decide if half-round gutters are the right choice for your particular gutter system.
All of the gutters we manufacture and install come withSeries 2100 hidden hangers. These are specialized hangers that resist corrosion and help prevent gutter sagging.
Other gutter companies use nails and non-corrosion-resistant hardware with smaller hangers to save money. Lessard's Rain Gutters wants your gutter system to hold up well for years to come with minimal maintenance, so we exclusively use high-quality hardware during your gutter installation.
Some properties may need gutter wedges or specialty hangers, depending on the specific job. During your complimentary estimate, we can discuss the best hanger for your particular gutter project.
Downspouts
We also offer downspouts to complete your gutter job. Standard spouts come in 2×3 for a 5-inch gutter and 3×4 for a 6-inch gutter. Three- and 4-inch round downspouts are available if you want to upgrade your K-style seamless gutters. We also offer rain chains in place of downspouts for added beauty, character and sound.
Get a Free Estimate for Seamless Gutters
Let us help you choose the perfect new seamless gutters for your property. Call Lessard's Rain Gutters at (210) 480-0009 or send a message through our contact form to request your free quote.