Frequently Asked Questions (FAQs)
We know you have questions when investing in a new gutter system, and we have answers. Lessard's Rain Gutters answers some of the most commonly asked questions we get from our customers and people interested in our services.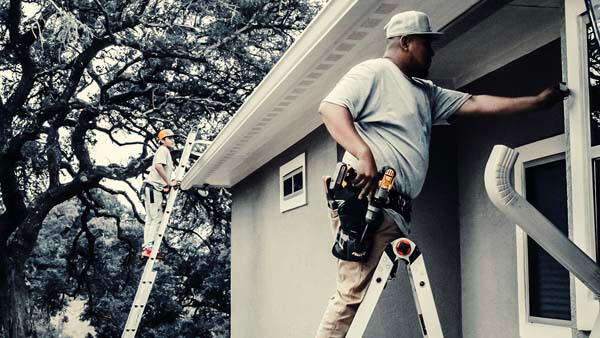 How do you custom-fit gutters for my property?
We order the material in a coil and bring our a special machine designed to custom fabricate your seamless gutters to fit your home or commercial property. Since everything is done on-site, there's less room for error and less waste when completing your gutter installation.
Do you charge for estimates?
No, your estimate with us is free of charge! Simply give us a call at (210) 480-0009 or use our contact form to reach us and we will come on-site to measure your gutters and talk with you about material options, features and more.
What warranties do you offer?
We offer a 10-year workmanship warranty in addition to manufacturer warranties your specific product comes with. To find out more about our warranties, visit our Warranty page.
What's the best way to clean and maintain seamless gutters?
You should clean your gutters a minimum of once a year. However, we recommend cleaning your gutters two or three times a year if you have overhanging trees in your yard. You should also clean clogged gutters after severe storms. Clogs often occur where downspouts join the gutter system, so inspect these areas closely.
To clean your gutters:
Wear a long-sleeved shirt and rubber gloves.
Have a good extendable ladder available. Standoff stabilizers are ideal to keep the ladder from damaging your paint or stucco.
Use a small plastic scoop to remove gunk. You can purchase a gutter scoop from the hardware store, or even a child's sand shovel can be handy.
After you've cleaned debris, you can flush gutters and downspouts with a garden house. This is also a great way to spot any leaks.
If you're tired of cleaning your gutters, find out more about our Leaf Protection options.
What types of payment do you accept?
We accept cash, check and credit cards.
What sizes and type of material are the gutters you install?
We install 5- and 6-inch aluminum seamless gutters. If you have a stucco façade or a metal roof, we might recommend 6-inch gutters. We also install 7-inch gutters, however, these are strictly for commercial or barn-like structures and come in 20-foot sections. The best way to determine what size rain gutters you need is to have us come and measure your structure during your free estimate.
Contact Us Today to Learn More
Have more questions? Our team is here for you. Call Lessard's Rain Gutters at (210) 480-0009 or send a question to our team using our online contact form.